The Options/Script tab provides access to setup script files. Using this tab you can select script files to execute, setup modem settings, create, edit and debug script files. The following options appear on this tab: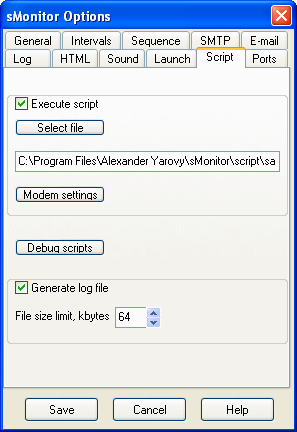 Execute script. This option allows to activate the built-in script interpreter to access remote systems by telnet and modem. Also, the script interpreter can execute third-party applications. The selected script file is executed by the end of each monitoring session.

Execute script: Select file button. Use this button to select a script file (*.scp). The Script Manual file contains the detail description of script structure, commands and its syntax. The Script Sample file illustrates the use of script commands.

Execute script: Modem settings button. This button invokes the modem communication settings windows (see below).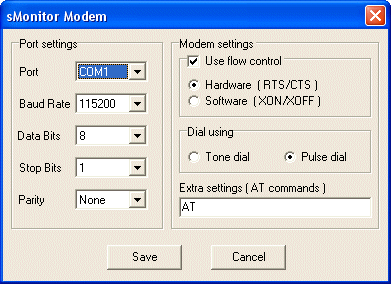 Change your modem settings if your script uses a modem.

Debug scripts button. This button invokes the sMonitor Script Debugger (see bellow).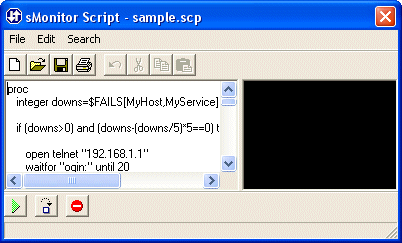 The left window is the built-in text editor. The right window is the terminal one. The buttons:



- run a script;



- executes a script step-by-step. Shows corresponding information in the terminal window;



- reset a script.

Generate log file. When this option is checked, sMonitor generates the script log file named script.log. It is unchecked by default.

File size limit, kbytes [...]. This option allows to limit the size of script log files. The default value is 64 kbytes. If this limit is exceeded a new log file is created with the names script_1.log, script_2.log, etc.