sMonitor is a network monitoring software that allows you to verify the network connectivity of TCP/IP hosts on the Internet and LAN. The program periodically pings, or checks TCP and UDP ports on user specified computers or other network devices. If the destination host fails to reply to a ping, connection request, or user datagram, sMonitor alerts you using audible alarms, visible notifications, e-mail messages, third-party software, modem and telnet connections. Also, the program generates different log files, CSV format files, creates and uploads by FTP an HTML file, which reflects a current status.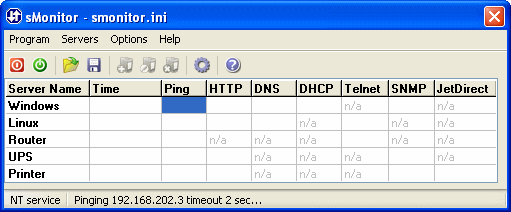 sMonitor features:
Runs as a standard application on Windows 98/ME.
Runs as a standard application or an NT service on Windows NT4/2000/XP/2003/Vista/2008/Windows 7.
Runs as a system tray application automatically on startup.
Supports ICMP, TCP and UDP.
Sends protocol-specific UDP requests to the ports: 67 (DHCP), 123 (NTP), 137 (NETBIOS-NS), 161 (SNMP), 389 (LDAP).
Allows server lists to be saved and opened as user specified files.
Alerts by audible and visible alarms.
Allows SMTP mail notifications when a service is down, up, or its state is changed.
Allows custom e-mail message format to be created.
Launches third-party applications.
Creates an HTML status file which mirrors the main sMonitor window.
Allows the HTML file to be customized and to be uploaded by FTP to a remote web server.
Contains a built-in script interpreter which interacts with remote systems by modem and telnet.
Allows customs scripts to be created and debugged.
Generates plain text log files and CSV format files sorted by servers and services.
Windows 98/ME/2000/XP/2003/Vista/Windows 7 and Windows NT4 SP6.
TCP/IP protocol.
Internet Explorer 5.5 or later.
Administrator rights on Windows NT4/2000/XP/2003/Vista/2008/Windows 7.
Key advantages:
Gains the advantages of NT services on Windows NT4/2000/XP/2003/Vista/2008/Windows 7.
Service management capability allows to install, start, uninstall and stop the NT service by one click.
One installation runs on all supported Windows versions.
The built-in script interpreter adds the high algorithm flexibility by using custom scripts
Intuitive interface makes operation easy for both beginners and power users.